Travel Advisories For Sept 14th &15th

| | |
| --- | --- |
| CAT Ferry/Yarmouth, Nova Scotia | Source: Brian Teepell Photography |
THE CANGZHOU CITY DOWNTOWN SECTION
Responsible Author: Ruby BIRD & Yasmina BEDDOU (Journalists/Directors) | PARIS - CANGZHOU, 09/06/2022, 06:23 Time
USPA NEWS -
The Cangzhou city downtown section of the world's oldest and longest man-made river, the Beijing-Hangzhou Grand Canal, is open to navigation for tourism since September 1 and will give visitors a chance to appreciate the masterpiece of ancient China's artificial waterway, announced an official with the Cangzhou city government of north China's Hebei Province.
After the Summer
Responsible Author: Jose A. Martin | Madrid, 08/30/2022, 18:44 Time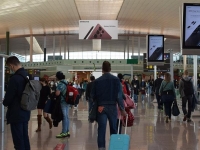 USPA NEWS -
The Spaniards are the Europeans with the most desire to travel in the coming months. This is confirmed by a survey by the Swedish firm Klarna, carried out on 9,000 people from eight countries, according to which 77% of the Spanish respondents expressed their desire to continue traveling after the Summer. The Spaniards, who during 2020 and 2021 had to forget their vacations due to the pandemic and the restrictions imposed by it, have launched this summer to travel both within the country and abroad. For the Spanish tourism sector, the Summer of this year, without reaching the figures from before the pandemic, can already be described as very satisfactory, with hotel occupancy that is close to 90% and consumption in bars and restaurants that is close to of 2019.
| | |
| --- | --- |
| | RAHMA-SOPHIA RACHDI |
| | Daren Frankish |
| | Ruby BIRD |
| | Yasmina BEDDOU |
| | Aurangzeb Akbar |